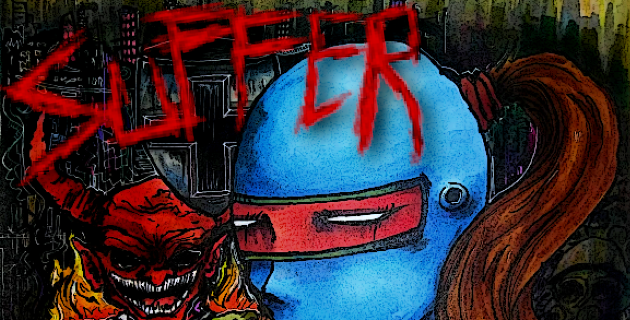 SUFFER
SUFFER [demo] Update and Steam Release!
---
The demo build of SUFFER has also been updated to version 1.2. This demo is running on the final version of the engine, with upgraded graphics, improved performance, tweaked physics, and more! In addition, the level featured in the 1.2 build is completely *exclusive* to the demo version of SUFFER! It will not be in the final game, I made it for you wonderful itch.io fans because I love you! Read the full press release for the Steam launch below.

===========================================
Anarchy Softworks LLC is releasing its first game, SUFFER, for Windows Desktop PCs on December 11th, 2018 via Steam! Set in an abstract dystopia ruled by demons, in SUFFER players become The Spirit of Anarchy to take on the corporate police state with nothing but a ninja sword and a hailstorm of bullets! Boasting "oldschool" PC game difficulty, Suffer is a brutal homage to classic FPS games with a horror-punk twist.

The air is thick with toxic smog, acrid smoke, and bomb shrapnel. State Sentinels and Observers bare down on you, the organic eyes twitching rhythmically to mechanical grinds and clicks as they screech orders through electronic speakers. Unloading every last one of your bullets into these freaks is satisfying, but the Riot Police ahead shoot first and ask questions later - unfortunately for them, a blade through the chest will be the only answer they get.

"My biggest goal with SUFFER was to tell the story of this world purely through the atmosphere and gameplay. There is very little in the way of cutscenes, my focus was to craft a challenging experience where the player would learn by exploring the environment and fighting off enemies. The details are left to the imagination of the player, sort of like the classic games I grew up playing. When the story takes a backseat to engaging gameplay, the mind wanders playfully."
SUFFER is a game for hardcore gamers in need of a challenge. Injecting fast paced FPS action with ninja-sword-fighting-acrobatics, this throwback to the golden days of PC shooters offers fun, addicting gameplay with a dystopian nightmare theme and punk attitude.

Intense Single Player Campaign
75 Handcrafted Levels - Abstract Design Anarchy
Brutal difficulty, for those seeking a challenge
Colorful Sprite Graphics Inspired By 90's Pixelated Glory
Original Punk/Metal Soundtrack
If you are ready to go head-to-head with the demon police state, check out SUFFER on Steam, available December 11th, 2018. 10% off until December 17th, 2018:
Anarchy Softworks is a one man video game studio. Everything is DIY and it shows! But I put everything I have into my games, and I've bled code/pixels/guitars for the past four years working on SUFFER and I don't plan on stopping anytime soon! You can check out Anarchy Softworks online at: http://www.anarchysoftworks.com/


# # #
Press Info: Press kit with screens and videos available at: http://www.anarchysoftworks.com/suffer.html

Files
SUFFER [demo] 1.2.zip
321 MB
Oct 20, 2018